DU145 Transfection Reagent (Prostate Carcinoma Cells)
Catalog #1749 DU145 Transfection Reagent, Size: 0.5 mL $229
Transfection Reagent for DU145 Cells (Prostate Carcinoma Cells, HTB-81)
Proprietary cationic lipids formulation

High transfection efficiency of small RNA (siRNA, shRNA, miRNA), mRNA, pDNA

Effective and robust intracellular delivery

Kit includes Transfection Enhancer reagent

Produces consistent results, lot-to-lot, plate-to-plate, and well-to-well

Work in the presence of serum

A proven reagent for establishing stable cell lines

Optimized transfection protocols are adapted for use with both standard & reverse transfection methods
Transfection Efficiency:
Reagent exhibits at least 75% transfection efficiency of siRNA delivery. Transfection efficiency was determined by qRT-PCR.
Transfection Protocol and MSDS:
Download Altogen Biosystems Transfection Protocol: [PDF]
Download MSDS: [PDF]
DU145 Cell Line:
The DU145 cell line was established from human prostate cancer cells. These cells exhibit an epithelial cell morphology and possess moderate metastatic potential. DU145 cells are commonly used, along with PC3 cell line, in the study of prostate cancer, which affects many people (particularly men over the age of 50). This cell line is considered one of the "classical" prostate cancer cell lines. These cells aren't sensitive to hormones and fail to express prostate specific antigen (PSA). DU-145 cells are epithelial-like adherent cells growing as monolayers. The DU-145 line is not measurably hormone sensitive. It is only weakly positive for acid phosphatase and isolated cells form colonies in soft agar. Analyses of the cell line has revealed microvilli, tonofilaments and desmosomes. DU-145 do not express prostate antigen but do express functional receptor activator of NFkappaB and androgen receptor. It has been shown glucosamine suppresses proliferation of DU-145.
Data: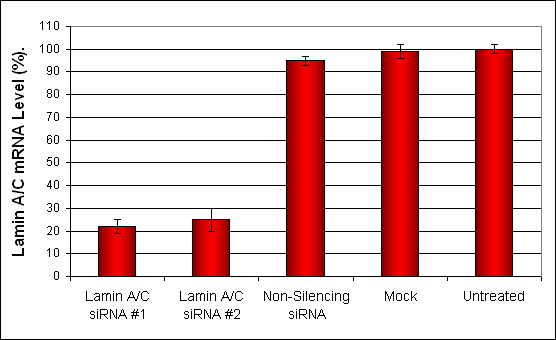 Figure 1. siRNAs targeting Lamin A/C mRNA or non-silencing control siRNA were transfected into DU-145 cells following the recommended protocol. At 48 hours post-transfection the cells were analyzed by qRT-PCR for Lamin A/C gene expression levels. 18S rRNA levels were used to normalize the Lamin A/C data. Values are normalized to untreated sample. Data are means ± SD (n=4).
Altogen Biosystems:
Altogen Biosystems is a life sciences company that offers cell type-specific and pre-optimized transfection products, elecroporation kits, and in vivo delivery reagents (peg-liposome, nanoparticle, lipid, and polymer-based; and tissue targeted: liver, pancreas, kidney). Advanced formulation of reagents and optimized transfection protocols provide efficient intracellular delivery of protein, DNA, mRNA, shRNA and siRNA molecules. Read more about transfection technology at Altogen's Transfection Resource.
Altogen Research Services:
Altogen Labs is a GLP compliant laboratory that provides preclinical contract research services (CRO). Pharma and biotechnology services include: transient and stable transfection (development of stable cell lines), liposome encapsulation (proteins, DNA, mRNA, siRNA), A-to-Z RNAi services, in vivo and in vitro toxicology, xenograft animal models, assay development, cell banking and cryopreservation services.